The importance of international preschool education in Jakarta Selatan is that it helps in a child's emotional, social, and personal growth and development. When 3-year-olds are able to spend time with adults other than their parents, they learn to build trusting relationships with adults. Preschool is the first experience for the child in a structured setting, to learn the importance of sharing and learning new things which fosters personal growth.
What Is preschool education?
International Preschool education in Jakarta Selatan is designed to foster the mental and physical growth of children before they embark on their primary education journey. Its purpose is to establish an external learning environment beyond their homes, allowing them to explore new realms of knowledge.
While a child naturally learns to communicate within the confines of their household, attending preschool offers continuous interaction and exposure to peers of the same age group and teachers. This dynamic atmosphere contributes to the refinement of their communication skills. This refinement involves the translation of mental concepts into language, thus enabling the transformation of thoughts and knowledge into meaningful information. The immersive exposure to a diverse vocabulary through activities such as role plays, interactive reading sessions, and engaging stories plays a pivotal role in enriching the child's language proficiency.
Why Is Preschool Important?
Researchers on early education have also shown the importance of preschool education stating that children taught at an early age usually have improved social skills, fewer behavioral concerns, and better grades without special attention. Self-confidence gained by learning playfully adds to the personality development of the child.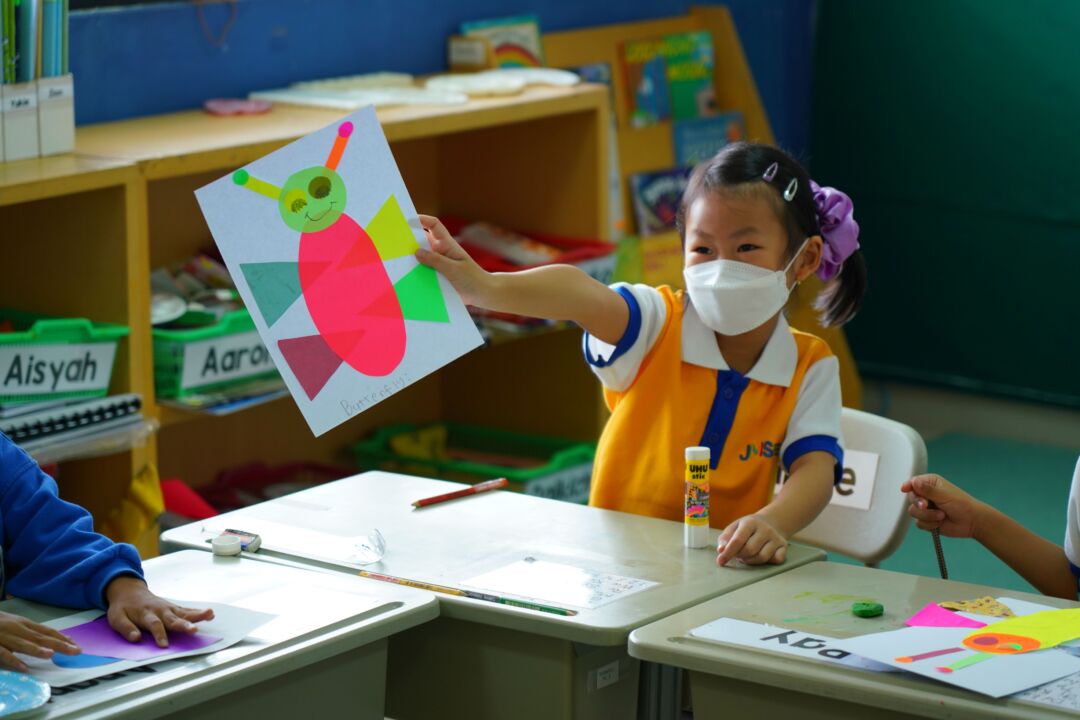 Many children who attend high-quality preschool programs have their lives changed for the better. In the first five years of life, children acquire the basic capabilities that prepare them for later success in school and life. Many studies show that high-quality preschools improve achievement, behavior, and school readiness for economically disadvantaged children.
Baca Juga: Peran Orangtua Dalam Pendidikan Anak
How do I find the right international preschool education in Jakarta Selatan for my child?
According to the National Institute for Early Education Research, the types of teaching activities and classroom emphases that contribute to high-quality early education for children include the following:
Opportunities to learn persistence when working on tasks, direction following, and good listening skills
Focus on language and literacy skills, as well as interactive book reading
Emphasis on teaching children problem-solving skills
Helping children expand their knowledge and increase their vocabulary
Opportunities to learn beginning skills involving the alphabet, numbers, and spatial awareness
Focus on scientific thinking skills as well as information about the everyday environment, the world, and how things work
Emphasis on teaching early literacy and mathematics through a variety of activities and projects
Opportunity for preschoolers to engage in music, art, and dramatic play
Educational program in which parents are involved and have opportunities to watch and take part in classroom activities
How do I enroll my child in preschool?
At JMS we believe in the importance of international preschool education. Play is not only fun and makes children happy, but it also helps them learn and develop intelligence, creativity, empathy as well as communication, and social skills. Playing is learning. Learning by playing. JMS provides facilities for our young learners to play indoors and outdoors.
At JMS our teachers provide assistance, guidance, and encouragement to the young learners to develop and hone their cognitive, social, language, emotional, and motor skills and abilities. To build trust, JMS is committed to providing a learning environment where they are assured that they are safe and secure.  The learners are given the attention and the support they need to build confidence in order for them to become independent and self-directed learners.
Every child is a unique individual having different needs, traits, learning styles, and the like. JMS' low learner-teacher ratio allows our teacher to pay attention to the individual development of each learner. In JMS everyone is treated with respect and understanding; every learner matters.
For more information about the Preschool Program at JMS School, contact us click here.
Bergabunglah dengan Pengalaman Kami!
Menjadi bagian dari JMS bukan hanya untuk program belajar yang menyenangkan,
tetapi juga untuk mengembangkan masa depan mereka.