Why You Choose Jakarta Multicultural School
"Expanding Horizon, Valuing Diversity, Connecting Minds"
Founded in 2007, the Jakarta Multicultural School (JMS) campus sits on a 2-hectare, lush property located in the green Situ Gintung area South of Jakarta. The school is only 15 minutes away from the Lebak Bulus MRT station. Our green school provides abundant open spaces and clean air away from the polluted and crowded city.
JMS is committed to provide an education with globally competitive curriculum that respects the plurality of beliefs, cultures and way of thinking. Moreover, we advocate for inclusive education whereby everyone, including learners with special needs, are given equal opportunities to discover and enhance their potentials as individuals.
We do not sacrifice quality for quantity. Our low learner-teacher ratio allows us to closely pay attention to the potentials and challenges faced by each individual learner. We provide a balanced education, but recognize and support exceptional interests of our individual learners in Math, Science, Languages, Sports and Performing and Visual Arts.
Check Out What People Have to Say About JMS
"I love computer science and am now taking Computer Network, Multimedia System, Linear Algebra, Data Structure, and Entrepreneurship at Binus International University. I am now the President of the Japanese Culture Club (BIJAC), a member of the Camera in Action Club (CIA) and Computer Science Club (BINARY) at my university. JMS has laid the foundation for me to pursue leadership and creative works."
"I am very happy studying here at TIU since it has provided me with scholarships and it is located so close to central Tokyo.
After I graduate, I am hoping to work for a Japanese company.

I was 12 years old when I first came to JMS and my English skill was a total 0. The only one word I could say was `OK`. JMS teachers and learners were very nice and kind, and they communicated with me using verbal and body language. The teachers praised me for every step I made and everyone was very supportive. JMS was a sweet and warm second home for me"
"I'm currently preparing myself for universities and my target major is Materials Science and Engineering. I would like to continue my studies in Australia because it is much closer to home than living here for another 4 years or probably even more – and it is not because I dislike it here. Despite the fact that I'm living thousands of miles away from my family and that Canada has the worst winters, I actually enjoy living here.
I've learned how to be more independent and responsible by living on my own. I gladly say that all this is possible because my 4 years spent in JMS has brought up my confidence in taking chances. JMS is a private warm and friendly school. You leave JMS feeling loved and supported by everyone because at the end of the day, we are all part of another big family."
"JMS played a huge role in my acceptance into the University of Surrey. Having JMS implement an international curriculum (CIE A Levels) for its Secondary Programme allowed me to attain the qualifications I needed to go to university in the UK. With JMS starting to use the IB Diploma Programme for the new academic year, I'm sure it will also help current students in achieving their academic aspirations.
Attending JMS was a life-changing decision for me. I took a risk in moving schools in seek of future rewards. JMS truly shaped me as a person throughout my two years there, enabling me to become a more responsible and wiser man. As I mentioned in my valedictorian speech, the sense of family and togetherness that spreads throughout JMS is what I'll remember most about the school. It really was a family away from home."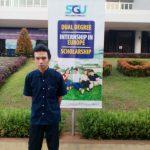 "ICT was my favorite subject when I was at JMS and the school provided me with knowledge and skills that I need to go to university. I am now taking Basic Calsulus, Database Concept, German Language and Culture, Discrete Mathematics, IT Fundamentals, Professional Ethics, Algorithm & Programming, Systems Thinking and English. I am taking many classes and the University offers great resources and supports for the learners"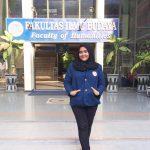 "I am really enjoying my time as a newcomer and freshman in this city. Being introduced to a new culture makes me realize the diversity of Indonesian customs and tradition. I am learning Javanese now! Academically I am doing fine since I have learned English well at JMS.

I have recently found my other passion than singing, which is being a Master of Ceremony for Faculty events. And I am continuing my singing career as well. I have joined a Faculty-based singing group that discusses music and performs together in various events."
Listen to Our Learners
Let's hear what our learners and alumni have to say about their experience in studying under JMS' bully free, low learner-teacher ratio and multicultural environment. Join us to experience the fun and our family-oriented environment.
Listen to The Parents
Let's hear what the parents have to say about their experience in having their children to study under JMS' bully free, low learner-teacher ratio and multicultural environment. Join us to experience the fun and our family-oriented environment.
Testimonial Conclusions
We provide a global learning environment to prepare our learners to become rigorous, competitive, creative, innovative, and culturally sensitive to continue their higher education in universities abroad as well as in Indonesia. Our alumni can be found in prestigious international and local universities such as Temple University, Massachussets Institute of Technology, University of California Santa Cruz, Nanyang University, Swinburne University of Technology, University of Tsukuba, Sampoerna University, Universitas Indonesia, etc.
Based on our motto "Expanding Horizons, Valuing Diversity, Connecting Minds", we prepare our learners to become productive citizens of the interconnected global village.
FACILITIES
JMS provides the facilities which enables us to deliver a fun and meaningful learning experience
to our learners.
Library
JMS houses three (3) libraries (one for each school – Early Years, Primary Years, and Secondary) Combined, JMS has a collection of 13,000 books, plus a large collection of audio-visual materials, newspapers, magazines and journals.
Science Labs
JMS currently has three science labs each for Chemistry, Physics and Biology. The labs share a preparation room and specific storage area for chemical and reactive substances.
The labs are fitted and equipped with all the technical resources necessary as well as interactive whiteboards and network connection to the school's intranet and the Internet.
EY Playground
JMS place special emphasis on developing our little young ones' abilities in a friendly, trusting and happy environment.
Our youngest learners are integrated into school life quickly and easily through specially decorated classrooms, available resources and the professionalism and nurturing care of our teaching staff.
Covered Swimming Pool
We have one kiddie pool for early years and one for bigger learners. Swimming classes are being conducted here and other activities such as water polo competition, swimming relay competition to name a few.
Indoor Sports Hall
JMS physical education syllabus is followed by all learners at the school, in line with JMS Curriculum requirements. The main objectives are for learners to hone their mobility skills and encourage awareness of themselves and others. They will gain understanding of the importance of physical education in balanced and healthy personal development and to hone their physical and social skills by taking part in different sports activities.
JMS aims for everyone to enjoy physical activity and view exercise as an integral part of a healthy lifestyle.
Arts & Craft Room
Through creative exploration, JMS learners are able to hone motor skills and better express their ideas and imaginations.
learners also conduct extensive research into artistic works, designers and architects to inspire and support their own work.
Outdoor Basket Ball & Futsal Court
Our outdoor basketball and futsal court is equipped with a covered roof, allowing learners to remain active whether rain or shine.
Soccer Field
Our expansive soccer field allows us to conduct sports competitions on an open field. Further, our newly built bleachers allow an audience to be able to watch sports games and competitions comfortably.
Running Track
Our newly constructed running track will allow our learners to further their sports skills in track and field and other track-based competitions and activities.
Music Room
Our music room houses a variety of both modern and traditional instruments, such as guitars, keyboards, piano, drums, angklung, and maracas. To keep up to date with the evolution of music and instruments, our learners also have the opportunity to learn and explore digital music and digital music composing.
Cafetaria
JMS cafetaria will not serve learners food that may contain peanuts, nuts and seeds of any kind or foods processed with these items or their by products.
This to include families, faculty and staff are respectfully asked to refrain from bringing peanuts, nuts and seeds of any kind or foods processed with these items or their y products, such as oils, into the school. This includes products which state "may contain traces of nuts/peanuts/tree nuts" or "manufactured in a facility which processes" nuts/peanuts/tree nuts.
Assembly Hall
This multi-purpose hall is used to conduct school assemblies, school productions and musicals, symposiums, presentations, graduation and other gatherings, and can accommodate up to 500 seats for an audience.
Bergabunglah dengan Pengalaman Kami!
Menjadi bagian dari JMS bukan hanya untuk program belajar yang menyenangkan,
tetapi juga untuk mengembangkan masa depan mereka.